Planned Giving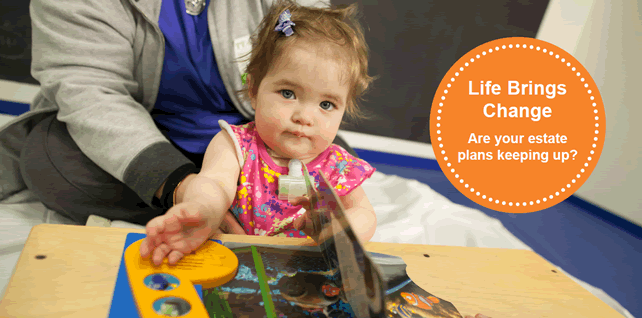 ---

Named for our founder, The Mary Irwin Laughlin Society recognizes friends who have named The Children's Institute as the beneficiary of a planned gift. If you have included or would like to include The Children's Institute in your estate plans, please contact Jill Murchak.
The 2013 Luncheon
October 23, 2013 marked the third annual luncheon of the Mary Irwin Laughlin Society, which recognizes legacy donors to The Children's Institute. Half of the 40 guests were new to this event.
Board member Lanny MacDougall, great nephew of Mary Irwin Laughlin, stated in his opening remarks, "Our donations, both current and from our estates, ensure that years after we are gone, The Children's Institute will continue to brighten the lives of children with special needs." David Miles, President and CEO, also emphasized the impact of charitable giving and provided an overview of our strategic initiatives. Jessica Urbanik provided a parent perspective by sharing the touching story of her identical twin sons who have achieved remarkable progress in the five years they have been receiving treatment in our neurodevelopmental clinic.
We appreciate the generous legacy support of the members of The Mary Irwin Laughlin Society.
Disclaimer
The material presented on this Planned Giving website is not offered as legal or tax advice.
Neither the author, the publisher, nor The Children's Institute of Pittsburgh is engaged in legal or tax advisory service. For advice or assistance in specific cases or whether to make certain a contemplated gift fits well into your overall circumstances and planning, the services of an attorney or other professional advisor should be obtained.
The purpose of this website is to provide general gift, estate, and financial planning information. Watch for tax revisions. State laws govern wills, trusts, and charitable gifts made in a contractual agreement. Advice from legal counsel should be sought when considering these types of gifts.
We do not collect or store any sensitive information through this website. When you send us an email, just remember that like any other email it is not secure, and therefore you should refrain from sending sensitive data such as social security numbers, credit card numbers, bank routing numbers, and the like.
Contact Us for help connecting with a qualified adviser.
Learn More
The 2013 Luncheon
Like us on Facebook
Twitter